Sorry I didn't post any book reviews this week.  The funny thing is, I actually read a LOT the past couple days.  I'm currently reading "Alloy of Law," by Brandon Sanderson with my husband, "War of the Worlds," by HG Wells on my Kindle, "A Dirty Job," by Christopher Moore on my Audible, and "The Storm Descends" by Gerald N. Lund in hardback.  So you can look forward to reviews on those soon. 😀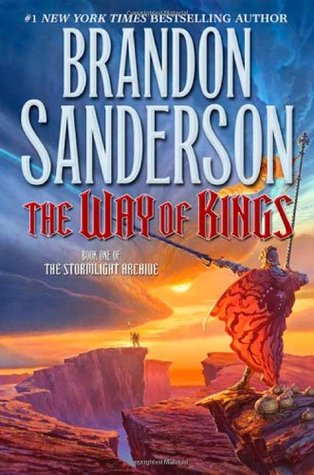 Unfortunately, those weren't the books I was reading during all of yesterday and the day before.  Instead, I spent all day skimming through and re-reading my favorite parts of Brandon Sanderson's Stormlight Archive books 1&2.  One of the ways I judge a book is whether or not I deem it worthy to read again.  Most of the time, it's a no, simply because I have way too much I still want to read.  Even then, just because I want to read a book again, doesn't mean I actually will.  (Now that I think of it, I should probably buy books less and just use the library more.) 😛
Even though each book in the Stormlight Archive is over 1,000 pages – IT WAS WORTH THE SECOND READ.  I was only skimming my favorite parts, and it still took me all day – because I love so much of it!  This series is seriously my new Harry Potter (which is saying something because I am a Harry Potter fanatic).  This was actually my THIRD time reading through my favorite parts of the first book, because the character insight you gain in the second book makes the first all the more incredible.  These books are like mazes.  You could go right through and still have an adventure, but if you're curious, there are countless different angles and directions you can wander down and explore.
This isn't a full review, but both of these books rate *****5 Stars***** to me.  Actually, "Words of Radiance" would be 5.5 if that were possible, because it's even better than the first. 😉
Shout out to all the NaNoWriMo Challengers out there!  You can do it! 😀
UPDATE:  After reading the third book in this series, I remain firm on my love for these first two books.  Also, I attended a writer's conference this last weekend that talked about "The Story Grid," from Shawn Coyne and I realized another reason why I love these (and also Harry Potter) books.  See, the Story Grid talks about genres, and how stories can be defined and categorized into genres based on their plot lines.
To put it briefly, there are Action, crime, horror, thriller, war, western, love, society, performance, status, morality, and world view genres.  Fantasy isn't included because it's simply defined as one of these other genres with a fantastic setting and/or magic.
"The Story Grid" then goes on to explain that each of these genres has a basic struggle and plot, and many books have multiples genres within themselves.  The more I learned about what each of these struggles were, the more I realized;  my favorite series has ALL of them.  Harry Potter starts off with only a few, but by the time you reach book 7, you've hit them all.  "The Stormlight Archive" hits them all by the end of book 2.